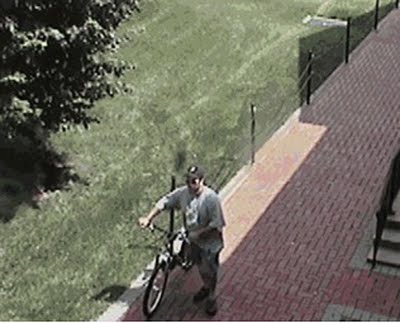 University of Delaware Police
are seeking the public's assistance in identifying a man wanted for questioning in connection with recent bike thefts on the Newark campus.
One bike was stolen from a bike rack at Kirkbride Hall on Friday, June 24, and about five others were taken from the West Campus between Thursday, June 23, and Sunday, June 26.
Surveillance video captured the man pictured above on June 24, and police say he appeared to be riding through campus, looking for suitable bikes to steal. He is described as 30 to 40 years old, heavy set, with tan skin, dark hair and facial hair.
Members of the University community are reminded to report any suspicious activity to police immediately. "Timely reporting decreases crimes and increases the likelihood of identifying the suspect and preventing other similar incidents from occurring," UD Police Chief Patrick Ogden said.
Anyone with information about the recent bike thefts is asked to contact UD Police at (302) 831-2222
Read it on UDaily HERE.