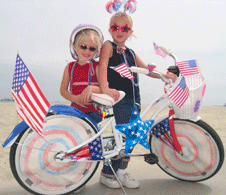 The First State
States are like people. Before jumping in the water, most states (like most people) prefer to let others go first, just to be safe. Could be rocks. Or sharks. Or it could be cold!
Not Delaware. We like going first. The "United States of America"? Last one in is a rotten egg!*** The vote was unanimous in 1787, just like the unanimous vote two months ago for "
Walkable, Bikeable Delaware
."
I'm not saying that Delaware is better than other states….wait, actually, I am.
***
For the record, Rhode Island ratified the Constitution 2 1/2 years after Delaware. Just sayin'.