Word is out that a new Super WaWa is coming to the site of the abandoned Bennigan's on Ogletown Road (Rt.273) in Newark. The question now becomes, will they have the common good sense to install usable bike parking at this location? Retail establishments in Newark do not fall under New Castle County ordinances requiring that bike lanes and bike parking be included in the plans, and a certificate of occupancy can be issued without bicycle provisions anywhere on site. Even without the ordinances, you would think this should be standard practice in a bicycle friendly city with a 4.7% mode share (among the highest in the nation). Let's hope WaWa and/or the City of Newark see to it that this redevelopment project, as well as all other new buildings include bicycle parking with a sturdy, safe rack(s).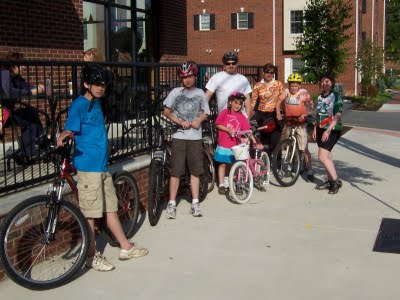 Above:  The scene in front of Saxbys on Amstel Ave in Newark, above. This coffee shop, among several other new retail businesses, is a hotbed of bicycle activity yet were built with no visible bike parking. Fortunately, the railing along the patio can be reached with a standard cable lock. New trees have also been planted out front, and can be locked to, but the City is adamantly opposed to using sidewalk features for bike parking.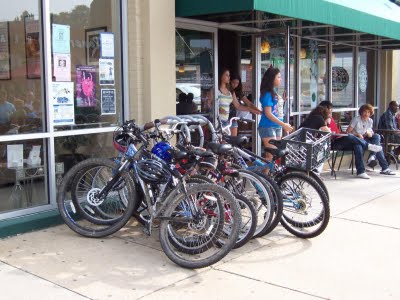 This rack, above, was located out front of Starbucks on Main Street, and has recently been removed. Racks like these, with 1 touch point to hold a bike upright, usually result in a pile like the above, and are not the least bit appealing to anyone with moderate to expensively priced bikes. Let's hope it's replaced with something sturdier.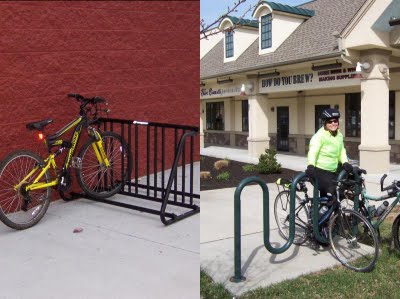 Above:  Further examples of bike racks that should never be considered. The rack on the left uses the front or rear wheel to support the entire bike, and knocking it sideways can permanently damage (bend) the rim. The rack on the right, "the wave rack" as it's known, supports a bike with only 1 touch point, resulting in bikes falling on top of one another. It is a great shame manufacturers continue selling this form of bike 'parking', and unfortunately, they continue to be among the top choices around Newark and New Castle County.
A simple, 2 touch point standalone designis an excellent choice, and is coming soon at strategic points along Main Street in Newark.Check in with the Newark Bicycle Committee for details.