More Americans are biking or walking to work these days, in part because public-sector investment is improving the infrastructure they need to get there safely. Further public investments in bike paths and bike lanes are likely to offer a big social payoff.Federal spending on bicycle and pedestrian infrastructure has
more than doubled
since 2006 but amounted to less than $4 a person in 2010.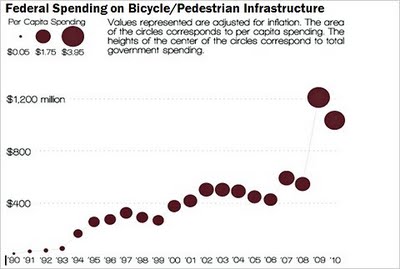 Cars enjoy huge direct subsidies in the form of road construction and public parking spaces, as well as indirect subsidies to the oil industry that provides their fuel. These subsidies far exceed the tax revenue generated by car use (as this excellent discussion of the technical issues at stake in these calculations makes clear.)
Yet cars impose major social costs: their use contributes to global warming, traffic congestion, accident fatalities and sedentary lifestyles. Bicycle use is good for both people and the planet. In a country afflicted by obesity and inactivity, people who get moving become healthier. Riding a bike to work or to do errands is far cheaper than joining a gym. Cutting back on gas consumption improves air quality, reduces dependence on imported oil and saves money.
Read the full article in the New York Times Business Day.