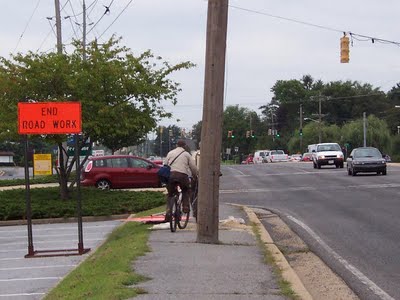 A common question at Bike Delaware has to do with Multi-Use Paths, also known as "MUPs", and who exactly maintains them. For some of us, especially in New Castle County, this facility type might be the only option or connection that makes our commute safe when there is no other alternative. Overall, they are not very common, but several do exist in the Newark area, some as part of the East Coast Greenway. There are lengthy new editions expected south of the C&D Canal, as well as along Rt.40.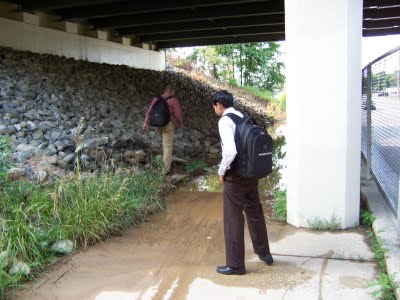 Route 72 under I95, south of Newark – one of a few truly safe crossings of I95 w/o on-off ramps. DelDOT responded to our action alert to clear mud from the path, however, drainage is the real culprit and the slippery stuff reappeared within days.
The chief complaint we receive is the deteriorated, sometimes dangerous condition these facilities are left in. Bike Delaware is investigating, and thus far we have found no specific policy or set guidelines for care and maintenance. According to the "Summary of DelDOT Livable Delaware Responsibilities Matrix" of 2001, however, the following can be found under "Maintenance Policy":
*  Bike Paths: For those bike paths which have been, or will be created within the paved surface of the roadway, and designated by paint striping, cleaning and repair of these facilities will be accomplished within the existing established procedures and policies governing highway sweeping and pot hole repair. Where bike paths are constructed as separate, stand-alone facilities, there is no current policy guiding frequency of cleaning, or standards defining an acceptable level of maintenance. Such a policy needs to be developed. Specialized equipment not currently in the Department's inventory or contracted services will be required to properly maintain separate paths. Existing equipment is designed for roadway service, and is too large and heavy to be utilized on stand-alone bikeways without damaging the physical structure of the path. There is no current effort to begin the process of developing a maintenance policy for bike paths.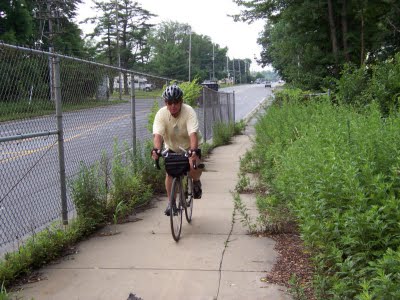 Vegetation, trees, and brush eventually render some paths inaccessible.
Still since 2001 when Livable Delaware began, it appears there has been no set policy established for the care and maintenance of MUPs constructed by DelDOT. In some extreme circumstances, however, DelDOT has responded to "Report a Road Condition" as a matter of safe practice, filling potholes or removing debris. While helpful, this is simply not enough on facilities that, as a whole, are in an obvious state of decay. Like the roads they usually parallel, they should be considered as part of the same right of way, and assessed for pave and rehab as an equal level of service.
Bike Delaware is considering this issue as part of their 2012 goals. For starters, we would like to see:
*  Parallel MUPs automatically assessed as part of the same ROW when considering pave & rehab opportunities.
*  MUPs that follow their own ROW also be included as part of the nearest road they parallel, OR have them placed under county jurisdiction and maintenance. Some already are, including Lewden Green (pictured at bottom).
 If we do not address this issue, most of these facilities will become "paths to nowhere." Lawsuits could ensue, with attempts to hold adjacent property owners liable.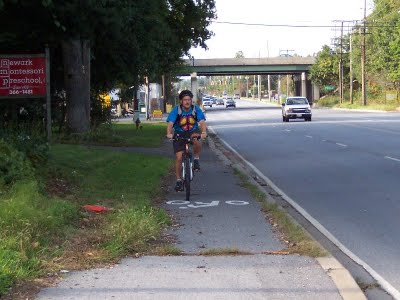 Route 72 south of Newark: For most, a "safer" alternative to riding in the lane with high speed traffic. A width of roughly 5′ remains of what was, and should be an 8′ wide well defined pathway according to design standards.
As a reminder, Bike Delaware does not advocate for parallel bi-directional MUPs in all but the most demanding cases. Unlike properly designed cycle tracks, there are serious safety issuesassociated with bicyclists riding "upstream" through side streets and entrances, and you surrender your rights as a road user at intersections. In addition, motorists expect bikes to use the path – even if there's a shoulder – regardless of the condition. There are some cases where the MUP is seen as a safer alternative, however; Rt.72 between Rt.4 and Old Baltimore Pike south of Newark is one such example, given 4 lanes of high speed/high volume traffic curb to curb. Unless riding in a group, you are likely to be bullied or harassed by drivers who see you as ignorant or inconsiderate for not using the "bike path".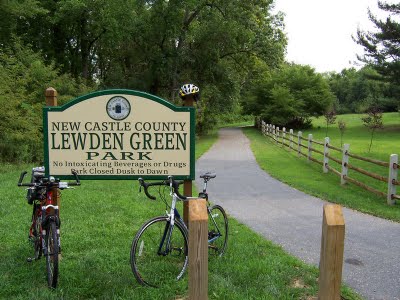 Lewden Green, aka "The Corcoran Greenway" behind Airport Road in New Castle County – maintained and in good shape.