In April of last year, we reported on the Maryland State Highway Administration's newest rumblestrip guidelines manual, which includes several revisions to account for bicycle safety. An application along Route 273(Telegraph Road), a favorite among Delaware cyclists heading out to/back from Cecil County, proved dangerously unsafe. We are happy to report the latest application discovered, in this case Route 213 south of Elkton, are installed according to spec — for a 55+ mph highway.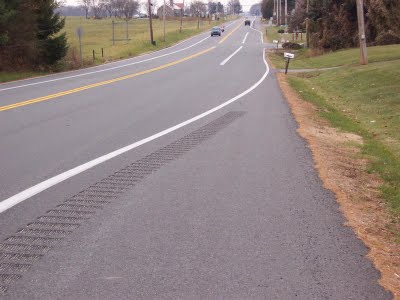 Above:  Maryland State Highway Administration's first application found on Rt.273 in Cecil County are cut wide, deep, without intermittent breaks between intersections, and follow the right turn-only taper lines to a pinch. There is also a 1′ offset, placing them exactly where many cyclists prefer to ride away from roadside debris.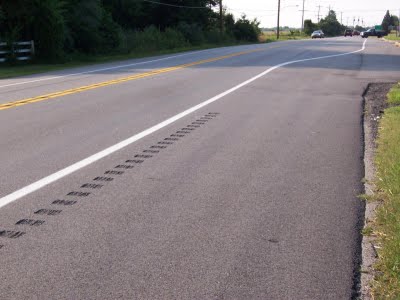 Above:  The latest design, found recently on Route 213. A vast improvement in depth, width, and approach to intersections and right turn-only lanes. As stated in SHA's revised guidelines where posted speed limits are concerned, there are no intermittent breaks in the rumblestrip and the offset remains, however, they are much safer and easier to cross on a bike than the previous design.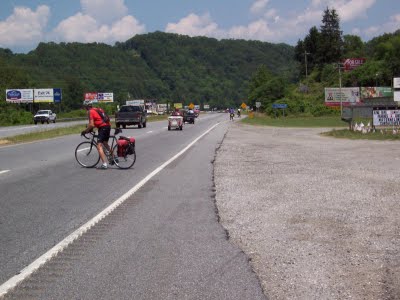 While we thank SHA and MDOT for hearing our voice and acting in a timely manner, our preferred design for all roads regardless of mph can be found in South Carolina, as seen above on the author's recent Bike Tour of the Blue Ridge. Rumblestrips hugging the white line (actually part of it) with intermittent breaks so riders may safely exit from behind at any given time.