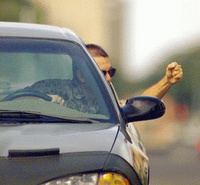 USA Today
—
Motorists who even threaten a bicyclist
by yelling at them could be held as criminals or potentially face a lawsuit before charges are filed under a law being enacted in Los Angeles.
The Los Angeles City Council made it a crime to threaten cyclists physically and verbally. Yes, that means you can't even yell at them. If you do, cyclists can sue drivers in civil court — even before the city files criminal charges,
according to the Los Angeles Times.
The state could go further: It's considering a law that could get motorists ticketed if they venture within a 3-foot safety zone for bicyclists. (poster's note — a 3 foot passing law was just passed by Delaware's Legislature) [Continue reading]