Bike Delaware has received a number of inquiries from potential bike commuters who's only sticking point is Airport Road, where it turns into Commons Blvd in New Castle. State of the art bike lanes installed in 2007 disappear into 4 lanes of curb to curb highway, where traffic is especially hostile at peak times. Except for the brazen, there is no safe way to reach Reeds Way – home to Wilmington University, Wesley College, and New Castle County's Government Center – as well as the New Castle County Airport by bike or on foot.
Above:  The point at which the bike lanes on Airport Road disappear into the curb. Few cyclists would even attempt this during peak travel times. Right lane Sharrows are also out of the question in this higher speed environment.
The idea of adding a buffered, bi-directional multi-use path (MUP) along the southside of Airport/Commons, from where the bike lane meets the curb at Schley Road, has been talked about. It would provide the only safe alternative to the infamous Hares Corner intersection (Rt.273/Rt.13) which, even with crosswalks, is widely viewed as the most hostile in all of Delaware. Points along Route 13 such as Flight Safety, with several confirmed bike commuters of its own, would also come into play.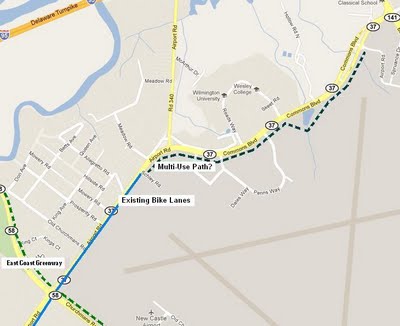 Above:  A crude map showing approximately where such a facility could be routed, in dashed dark blue. Apparently, DelDOT owns enough right of way (ROW) outside the current configuration to accommodate an additional 8′ pathway.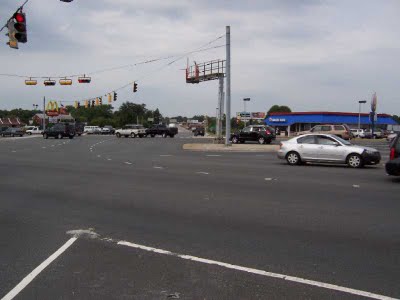 Above: 
The current offering – Hares Corner. Would you commute by bike with this on your daily menu? Even a crosswalk on the eastbound side is anything but safe for pedestrians, never mind bikes. We consider this intersection "too far gone" when it comes to at-grade crossings.
We urge DelDOT and/or New Castle County to explore all options for safe bike commuter routes through this region. A number of potential commuters are waiting for an alternative to Hares Corner and the Rt.13 corridor to access points along Commons Blvd and the airport.