DelDOT maintenance crews went to the rescue within 1 month of being notified of treacherous conditions on the Route 141 shoulder leading to the Tyler McConnell Bridge. Gaping potholes and cracks which had opened up in recent months – given the harsh winter – were recently repaired. Care was taken to level the patches with the road surface itself, ensuring the ride is as smooth as possible given the poor condition of the concrete. DuPont employees were elated with the news, even though by no means is it a long term solution. The highway is steadily degenerating, and it is anyone's guess what the future holds for both Route 141 and the bridge itself given the budget situation. Nonetheless, DelDOT is committed to making sure complete streets is applied in whatever reconstruction project is approved someday (see a past articleon the subject).

View SR 141 & SR 52 in a larger map
The map above shows the daily challenge faced by DuPont bicycle commuters approaching from the southwest. The red line is the only practical route to the Experimental Station: Route 141 directly over the Tyler McConnell Bridge. The green line shows a parallel multi-use path that was built at the time the road was last reconstructed. An excellent addition at the time, this path has succumbed to age and non-maintenance, and would take the commuters out of the way and through an additional dangerous intersection with Route 52.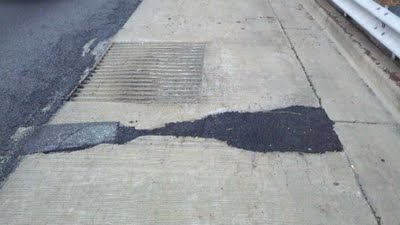 Above: This among the worse holes that was patched by DelDOT crews. Note it was patched flush with the asphalt, a crucial detail that might otherwise leave it raised like a speed bump.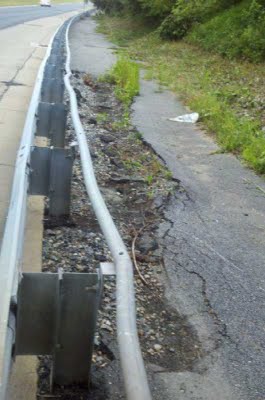 Left: The abandoned parallel MUP facility, built with good intentions way back when, sits in ruin behind the guardrail. Facilities like this need periodic repair, landscaping, and rehab in order to be a desirable option. Delaware has no such plans in place.
All things considered, the shoulder repair is an improvement for the brave, and will work on a short term basis. We urge DelDOT, DuPont, and NCC to meet and explore what alternative options exist for a bikeway connection to the DuPont Experimental Station.
A tip of the helmet to Mark Luszcz, Denny Hehman, Anthony Aglio, and whomever else was involved in getting the job done in the interest of safety.