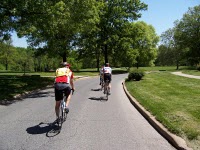 Newsleader.com — Maybe it's too close to home for us to think about, but for those who want an outdoor vacation spiced up with a little history, try Delaware on for size.
Every year for the last quarter century or so, my friend Sue and I have discovered and explored a little corner of someplace while perched on the seat of a bicycle.
This year we chose Delaware for several reasons. First there is the flat terrain — something that has become increasingly important in the last few years. Second, over the past several years we have worked our way north through the terrain of the Delmarva Peninsula. We have ridden several years in the VA (Virginia) part, and for the last two seasons we pedaled around the MAR (Maryland) part, so it made sense to finish off with the DEL (Delaware) part of this long stretch of Atlantic coastline.
Delaware is not large geographically, ranking 49th in size, and is 45th in population, but it packs a lot into its three counties. For starters, its history is almost as old as Virginia's and closely linked to the Old Dominion with its name derived from Baron De La Warr, an English blue blood and Virginia's first colonial governor. The tiny state led the charge during the American Revolution and became the first state to ratify the U.S. Constitution, earning it the nickname of "The First State." [Continue reading]