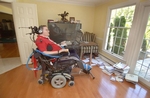 WNJ, August 4, 2011 —Dr. Bruce A. Fellows was determined not to let a tragic accident six years ago change his zest for life.
The gifted vascular surgeon whom patients credited with saving their limbs and their lives was paralyzed from the neck down after a May 2005 cycling incident near his former Sussex County beach house. His traumatic spinal-cord injury was similar to that of the late actor Christopher Reeve.
Fellows told The News Journal in October 2006 that he had his daily frustrations adapting to life as a quadriplegic permanently dependent on a ventilator that helped him breathe, but there was no wallowing in sorrow.
"I haven't curled up in a ball. It's my nature to accept what is there and make the best of it," said Fellows, crediting his upbringing as the son of missionaries as well as a 27-year career as a surgeon with fostering his acceptance and resolve. "I approach life in a practical way. You can go on and have a determined attitude."
The 63-year-old died Saturday at his Greenville home. His daughter Meghan Fellows said Wednesday that her father maintained his independence to the end of his life and had recently started consulting work. But health issues, including bed sores and pneumonia in the last few months, left him weakened.
———–
Poster's note: Dr Fellows was struck by a vehicle that turned right immediately after overtaking him, aka the "Right Hook". Further details, including what charges (if any) where brought against the driver are not known. Read "Still Playing to Win".