Advocacy Advance Awards $100,000 in Grants
Aug. 10, 2011– In line with a goal to double federal funding for biking and walking, Advocacy Advance is awarding $100,000 in direct grants to four advocacy organizations.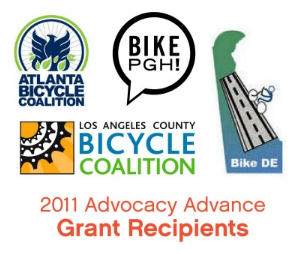 Using the grants to tap into federal funding streams and build their political influence, recipients will work to triple bicycle mode share in Atlanta, Ga., dramatically improve infrastructure in Pittsburgh, Pa., empower Latino cyclists in Los Angeles, Calif.,and create a new model to win state dollars in Delaware.
Since 2009, Advocacy Advance — a partnership of the Alliance for Biking & Walking and the League of American Bicyclists — has awarded more than $500,000 in direct grants to 25 state and local advocacy organizations. This year, more than 60 applications with proposals totaling more than $1.3 million were received in the two grant categories: Model Grants and Capacity Building Grants.
2011 Capacity Building Grants
Los Angeles County Bicycle Coalition
The Los Angeles County Bicycle Coalition (LACBC) will receive a $15,000 matching grant to hire a dedicated bilingual education/outreach staff member to empower Spanish-speaking residents who lack access to bike safety and advocacy tools, and build political power for improved bicycling in L.A. by better including populations of color.

Bike Delaware
Bike Delaware advocates recently won $5 million in new dedicated funding for bicycling in Delaware in 2012 – more money than the state has ever allocated in the past. A $10,000 matching grant will help Bike Delaware create a national model to increase state bicycle and pedestrian funding by creating an action plan for state bicyclists, advocating legislation, monitoring and communicating with DelDOT, and tracking progress.
Read the full press release HERE.