Also Overdue
Originally posted: June 15, 2011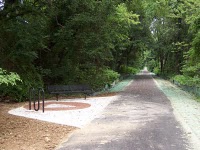 Shane Hoffman, Wilmington: "As a resident of Wilmington who works in New Castle, the creation of a Wilmington-to-New Castle bicycle highway would improve my quality of life tremendously. I have attempted to commute to work by bicycle, but the only routes available to me feel much too dangerous, especially during rush-hour traffic. If a safe route becomes available, it will allow me to realize my goal of leaving the car at home and bicycling to work to improve both my health and my personal budget. Additionally, I would welcome the ability to bicycle with my wife and children from Wilmington to New Castle for weekend outings. This project would be an enormous leap forward for New Castle County."
Rebecca and Todd Keyser, Wilmington: "Completion of the New Castle Industrial Track Greenway will provide safe, non-motorized passage in these areas. It will allow safe, direct access between areas where people work, shop, and live. There is a need for a safe crossing over the Christina River traveling both north and south, the arching railroad overpass on South Market Street, and the I-295 interchange with Route 9. The completion of the NCITG will provide these facilities, and connect existing islands of non-motorized infrastructure in Wilmington and New Castle. It will allow us to safely commute by bicycle on more days, regardless of weather, roadwork, or accidents, and further reduce our carbon footprint. Furthermore, the elimination of real and perceived barriers will encourage less-experienced cyclists to commute by bicycle.
"We urge our state, county, and local officials to support funding for and construction of this project. Please provide this desperately needed connection for non-motorized transportation for the benefit of Delaware's environmental and public health."
Esther Lovlie, President, Historic New Castle Alliance: "A six-mile transportation and recreation corridor between the Wilmington Riverfront and old New Castle will bring new visitors and energy (but no new automotive traffic!) to New Castle and will be an important part of the commercial renaissance of the city."
Sarah Willoughby, Executive Director, Greater Wilmington and Brandywine Valley Convention and Visitors Bureau: "Based on various research from other states, the economic impact and the number of jobs created by tourists traveling and staying overnight strongly supports the great need for Delaware to have the Wilmington to New Castle Greenway completed. In addition, with the National Park proposal, it is safe to bet that we will all see an increase of tourism in and around New Castle County.
"Our Visitor Center provides current biking information and we are always asked to recommend longer rides."
Read more about the Wilmington-to-New Castle Bicycle Highway HERE.