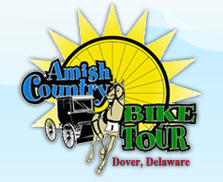 Save $15 — Register by 8/26 for the Amish Country Bike Tour set for 9/10/11!
If you've already registered, thank you — we'll see you on September 10. If not, here's a reminder that the early bird deadline to register for the Amish Country Bike Tour is Friday, August 26, 2011.
By August 26: $35 per adult
After August 26: $50 per adult
Teams (of at least 10), by August 26: $30 per adults
For more information about the bike tour,
click here
.
You may also purchase extra meal tickets for friends and family, t-shirts at $15-$17 (if any stock is left), and raffle tickets on a Fugi bike
online now
or day of at headquarters on Legislative Mall.