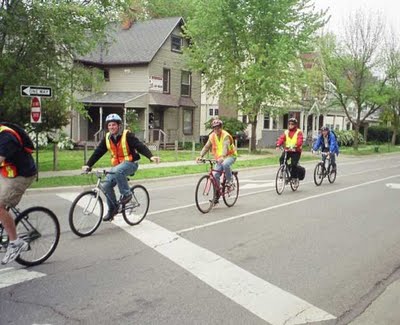 Michigan Department of Transportation has been putting engineers on bikes since 2005. Will we convince DelDOT to do the same someday? Photo: MDOT
Do you ever feel like traffic engineers just don't get it? That there is a hopeless disconnect between the world of sustainable transportation and the world of "level of service" and "vehicle throughput?"
Well, the Michigan Department of Transportation has a remedy for that. They call it "Training Wheels."
Since 2005, MDOT has been putting traffic engineers, planners and public officials behind the handlebars for a view from the other side of the windshield. Hundreds of transportation officials and decision makers have received training in bike planning, but perhaps more importantly, experienced the streets from a cyclist's perspective.
Demand for Training Wheels has been growing in the Wolverine State, as more and more communities see the benefits of encouraging cycling. As a result, MDOT doubled its offerings in 2008. They now offer four to eight voluntary trainings a year for local officials at field offices across the state, said Josh Debruyn, bicycle and pedestrian coordinator for MDOT.
"There's a knowledge gap between what is taught at the university level and what people are being asked to design," said DeBruyn. [Continue reading …]
Poster's note: We do know a number of DelDOT folks ride, including (at least) one top level engineer in the Traffic Department. "Complete Streets Training for DOT Engineers" is included in Bike Delaware's list of future goals.