By Carol Ireland, President, White Clay Bicycle Club

Supporters of the bicycling community (meant in the broadest sense) showed up in force at the August 18 WILMAPCO Technical Advisory Committee (TAC) meeting. They expressed strong support for the Committee to add the Phase 3 project to complete the New Castle-to-Wilmington Industrial Track to the 2012-2015 TIP (Transportation Improvement Program). This project involves building a bridge across the Christina River, to complete the connection between these two important urban areas in New Castle County. The TAC voted unanimously to include this project in the TIP with $480,000 in federal matching funds to go along with $120,000 from the state (part of the $5 million included in the Bond Bill for DNREC to oversee building bike routes across Delaware)." This is also a great precedent for leveraging the next $4,880,000 in state bike route funds. Among those who attended the meeting were: Angela Cunneely, Darryl Flaherty, Karl Hassler, Bill Osborne and Andrea Trabelsi from Bike Delaware; Carol Ireland from White Clay Bicycle Club (and Bike Delaware); Laura Saperstein of the Urban Bike Project; Jonathan Kirch of the American Heart Association and American Stroke Association; Esther Lovlie, the President of the Historic New Castle Alliance; Sarah Willoughby, the Executive Director of the Greater Wilmington and Convention and Visitors Bureau; and representatives from Delaware Greenways.
This fabulous turnout really underlines the value of bicyclists aligning with other folks who have overlapping goals, and we thank everyone who participated.
July 14th, 2010 blog post HERE, showing the phase 3 alignment.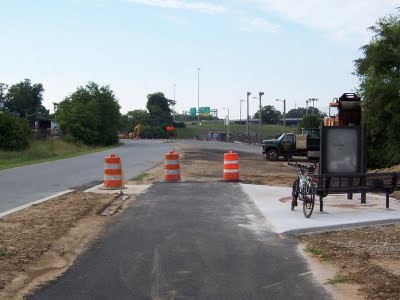 Above: Industrial Track Rail Trail Phase 1 ends just north of Boulden Blvd, just south of the I295/Rt.13 interchange. Phase 2, set to begin later this year, will continue from here to the south bank of the Christina River. Phase 3 makes the final connection from the Christina to the Wilmington Riverfront.