Driven by demand from countries like China, India, and Brazil, the global market for automobiles is accelerating faster than ever. According to an analysis from the auto trade journal Ward's, there are now over one billion cars, light-, medium-, and heavy-duty trucks on roads around the world, up from 980 million at the end of 2009.
In just half a year, the global auto fleet expanded by around 35 million vehicles. That's the second-biggest increase ever.
The U.S. is still has the biggest population of cars and trucks — one for every 1.3 people in the country. But the American fleet is not growing much, only about 1 percent a year. The explosion in automobile deployments is coming from China, where registrations grew by 27.5 percent, bringing the country's vehicle population to 78 million. That increase was more than half of the total global expansion, according to Ward's. [Continue reading…]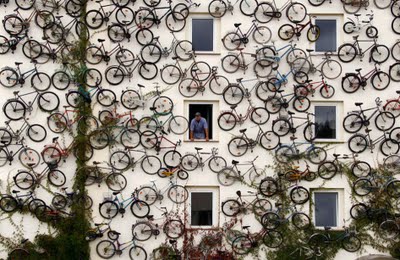 One idea for dealing with China's millions of newly abandoned bicycles. Millions of Chinese are trading in this personal freedom in favor of automobiles, and the death and destruction that accompanies them.