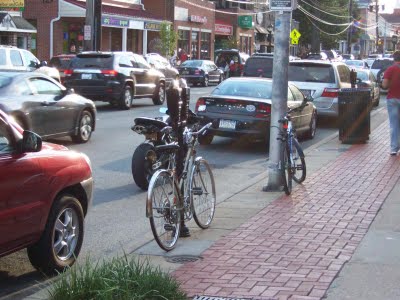 Debate continues about how we can best accommodate bike parking in Newark's downtown, especially along Main Street. As of the last Newark Bicycle Committee meeting, the following is known:
*  The City would like to enact ordinances prohibiting the use of trees, but has held off due to the existing lack of bike parking. Trees are dying as a result.
*  A recent attempt to install bike parking within bulb-out areas at pedestrian crosswalks failed after motorists ran over and destroyed all but one rack.
*  City planners are working with Main Street establishments to gain favor for bike parking in select sidewalk areas. Results are mixed. Adjacent property owners hold major sway, with aesthetics at issue for some.
*  The City's parking committee is opposed to locking bikes on parking meters.
*  Bicycle usage in Newark will only increase, with an upcoming inter-modal transportation plan, ever increasing gas prices, and an overall greater concern for the environment and sustainability.
At last check, modeshare stood at 4.7%, among the highest in the nation. It goes without saying that sidewalk space is at a premium on Main Street. And removal of car parking space at regular intervals  – in favor of protected bike parking "corrals" – stands about as much chance as building a cycletrack. Add everything up, and what's left?
The answer may be a simple retrofit of existing infrastructure, in this case parking meters. They're already being used by bicyclists with Krypton U locks (or a lock that can't be slipped up and over the meter head) as seen in the picture above. Selling points as follows:
*  Makes use of existing infrastructure
*  Very easy to install
*  Requires no additional sidewalk space
*  Installs parking in front of virtually every storefront
*  Bikes will be spaced evenly between cars, away from opening doors
Helps ensure bikes will not touch/scratch the meter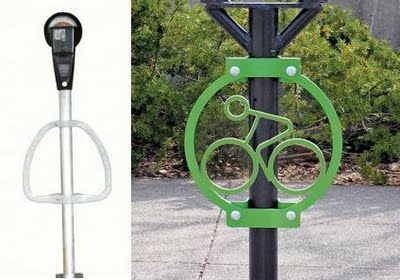 A few examples of what is on the market now, from mundane to ornate. The Advocate Meter rack, to the above right was inspired by the Bike Federation's logo. Multiple other designs are also available around the web.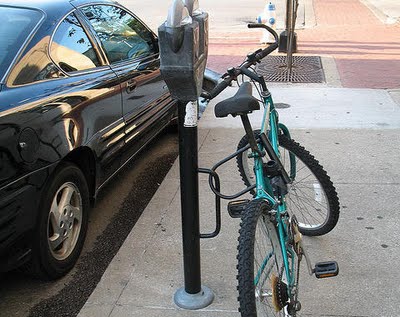 A simple steel retrofit using a welded on loop. This idea, likely the least expensive, puts less between the bike and the meter pole, but is very effective nonetheless.
We remain hopeful that the City of Newark will take decisive action to maximize bike parking on Main Street. Not only to accommodate those already riding, but to further encourage bicycling to the downtown as a means of transportation. Those who choose to bike are doing the city a tremendous service by improving health and reducing congestion, noise, and all the ills associated with auto-dependence, and should be welcomed. We believe this offers a simple, attractive, low cost solution.