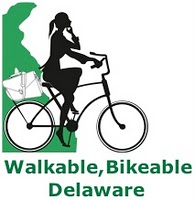 Despite at least a 30% greater construction cost and the likelihood of impacting adjacent properties along the route, participants in a DelDOT sponsored Public Workshop in Lewes on Monday, spoke in favor of retaining the current rail line alongside a new 10 feet wide multi-use path that will be built between Lewes and Georgetown. The new Trail was enthusiastically endorsed by all the Workshop participants, but comments indicated a strong interest in future economic development possibilities that might develop if the rail line is kept.
Senator Gary Simpson, Lewes Mayor Jim Ford and Delaware Transit Corporation Development Director Ken Potts all attended and spoke at the Workshop.
Mike Rothenheber, Senior Vice President of JMT, presented the results of JMT's study of the route. The estimated price for removing the current rail line and building a multi-use path between Lewes and Cool Springs in its place was $10M. The rail-with-trail option was estimated to cost $13M, not including possible additional cost for some right-of-way acquisition in places.