By Chris Mc Evilly
ACTION ALERT
–
The 141 corridor could become a 202 or Kirkwood Hwy stop/start congested shopping corridor
If you use the SR 141 corridor for commuting and access to other bike routes, conditions could change drastically to the detriment of bicyclists if the Stoltz Organization gets it way at two upcoming County Land Use meetings. Stoltz wants to introduce Commercial Neighborhood zoning at 100 and 141 and Commercial Regional Zoning at Barley Mill Plaza. Please mark the following two dates on your calendar:
SEPTEMBER 6 at 7 p.m. – NCC Planning Board Meeting
Stoltz introduces its request to rezone 2 acres at the 20 Montchanin site (former MBNA and Columbia Gas) across from St. Joseph's Church, where it requests Commercial Neighborhood Zoning (site is Office today) to construct a 6000 s.f. building with drive through. Stoltz says it will be a bank, but there is no guarantee. It could be a CVS or a strip center, and the rest of the site could eventually be rezoned. This rezoning would set a precedent for introducing retail on the 5-mile stretch of 141 that today has NO retail, making it attractive as a popular biking route. The 20 Montchanin site is on the Brandywine Valley National Scenic Byway.
Takes place at the Gilliam Bldg, 77 Read's Way (Map/directions)

OCTOBER 11 at 7 p.m. – NCC Council Meeting
Stoltz introduces its request to rezone 37 acres (40% of site) to Commercial Regional so it can build:
454,000 s.f. regional shopping center (1/2 size of Christiana Mall
8 high traffic turnover PAD sites along 141 and 48
4-story hotel
1.2 million s.f. of offices
multiple multi-story parking garages
Total square footage larger than Christiana Mall! Takes place at the City-County Building (Map/directions)
TAKE ACTION TODAY ON THE 20 MONTCHANIN SITE! SAY 'NO' TO THE REZONING. LET THE PLANNING BOARD KNOW WHY IT SHOULD REMAIN A DESIRABLE BIKE ROUTE. Email the Planning Board at
LandUse@nccde.org
.
If at all possible, please attend and speak at the above meetings.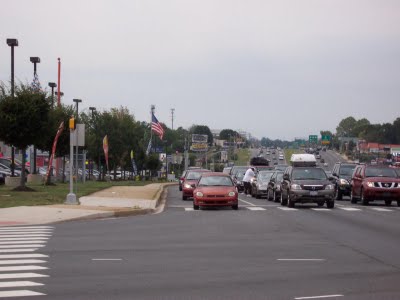 A view of Route 273 from Hares Corner. A prelude of what's to come in Greenville, and throughout Delaware for that matter? Act now before some of our most desirable biking roads become off limits to bicycling and walking.