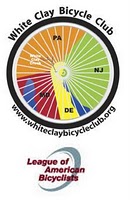 By Heather Dunigan
Reminder that the
LAB Smart Cycling: Traffic Skills 101
class will be taught by Paul Hess of White Clay Bike Club here at WILMAPCO
(
map
)
. Space is still available for a few more students, so please contact Paul to sign up or share this with others who may be interested.
Smart Cycling: Traffic Skills 101
Offered by WCBC League Cycling Instructors Tom & Cindy Mannis, Paul Hess, John & Ceci McCormick. This nine hour League of American Bicyclists (LAB) Program will be held on Friday, September 16th from 6-9:00 PM and on Saturday, September 17th, from 1-7:00 PM, at the WILMAPCO Building in Newark. Participants will receive the LAB TS101 text and classroom/road instruction including: bicycle selection and fit, bicycle maintenance, clothing & equipment, bicycle drills (emergency maneuvers), lane position, and principles of traffic law. The cost is $30.00 for WCBC Members and $50.00 for non-members.
Checks should be made out to White Clay Bicycle Club and sent to: Paul Hess, 280 W. Chestnut Hill Rd., Newark, DE 19713. The attached form should be completed and accompany your check.
Additional Questions should be directed to Paul at
pehess@comcast.net
or Paul's cell: 302-897-7311.
The class may be capped at 25 students so please respond promptly.