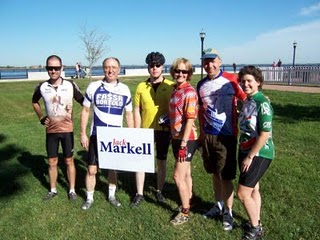 By Kirsten Louis
Hello Tour de Delaware Riders!
Once again it is time to gear up to ride with our Governor on the 6th Annual Tour de Delaware! Jack will join with friends old and new, as we ride through our beautiful state of Delaware. The plan is to leave Newark at 9:00am, Friday, Sept. 23 and arrive at Woodburn, the Governor's House in Dover at 3:30pm.

Details of the plan are as follows:
8:30am – Riders assemble
Newark – University of Delaware
9:00am – Riders depart Trabant University Center
University of Delaware (Intersection of South College Avenue (Rt.896) and Main Street, Newark Delaware
10:20am – Delaware City (mile 19) – (Snack stop)
Town Hall, 407 Clinton Street, Delaware City
12:45-1:45pm – Smyrna (mile 45) (Lunch)
Aquatic Resources Education Center (AREC), 4876 Hay Point Landing Road (Rt.9), Smyrna, Delaware
3:15pm – Dover–Woodburn (mile 59)
The Governor's House, 151 King's Highway, Dover
To view the route, please visit HERE.
At the conclusion of the ride, riders and their families are invited to join Jack for a BBQ in the Gardens and on the porches of Woodburn. Transportation will be provided back to Newark after the reception. We sincerely hope you can join us for our 6th Tour de Delaware (and Jack's 3rd as Delaware's Governor)!
If you are interested in participating in this year's ride please call or email Kirsten Louis ASAP so we can make sure to have PLENTY of Gatorade, granola bars, water bottles, healthy snacks, etc.
—
Kirsten Louis, Markell for Delaware
office: (302) 322-8800, cell: (302) 650-8777