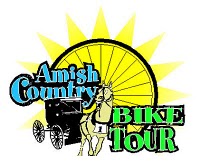 Newly appointed Secretary of Transportation, Shailen Bhatt, has assembled a team of approximately 24 DelDOT employees – including himself – to ride together in the upcoming Amish Country Tour. A record turnout for the event is expected this year. If you are participating, please be sure to say hello to members of Team DelDOT, as they wear their brand new, bright orange colored jerseys!
Of the 24, a few are friends or family members but nearly all are employees. Public Relations is in charge of purchasing the jerseys, so they should be plenty bright and very attractive. In addition to Secretary Bhatt and Anthony Aglio (Bicycle Coordinator), they also have a few bridge engineers, a design research engineer, design quality control engineer, subdivision project manager, real estate representative, administrative assistant, environmental scientist, a bridge inspector, and other planners to round out the group. DelDOT photographers will also be on hand to take photos at the event, so make sure to position yourself near the team.
Much of the progress made in Delaware, including a high Bicycle Friendly States ranking and Bronze award, is owed to their dedication, hard work, and willingness to work alongside the bicycle/pedestrian community. So again, please be sure to say hello and thank these folks for a job well done!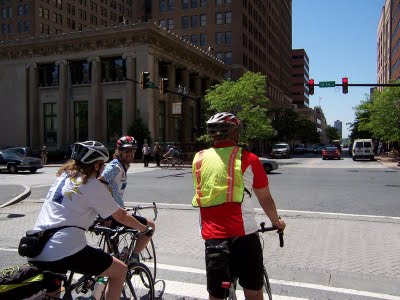 L-R: Amy Wilburn of the Delaware Bicycle Council, along with Dan LaCombe and Anthony Aglio of DelDOT lead the way during the 2010 Delaware Bike Summit rolling press conference.