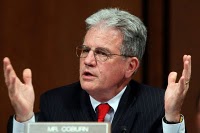 Senator Tom Coburn
, (R) of Oklahoma, is planning to ask Congress to eliminate the federal Transportation Enhancements program – the primary source for nearly all dedicated federal bike and pedestrian funding. His proposal will likely come up for a vote in a matter of days.This Amendment would strip Enhancements from
SAFETEA-LU
, and might affect Delaware's chance at fully leveraging the
$5M that was recently set aside in the bond bill
.
At a 4:1 match, this amounts to

$20M

that could be made available to us on top of the $5M, unless Mr Coburn has his way.
That could be enough to build a safe and secure bikeway network throughout Delaware!
This program has funded 20 years of sidewalks, crosswalks, bike lanes, and trails. Eliminating it is dangerously out of step with the facts: 14 percent of all traffic fatalities are people on foot or bike, and 12 percent of all trips are taken on foot or bike. In Delaware, we are now just beginning to reverse the trend of being among the highest nationally in bike/ped fatalities – and we need this program in order to continue in the right direction, yet Mr Coburn sees fit to make it a priority for elimination.

Bike Delaware has been in contact with Delaware's entire congressional delegation. They are aware of how valuable these federal programs are to Delaware.
We are extremely fortunate that both of our Senators and one Representative are staunch supporters of multi-modalism and safety.
Our representatives are fighting for us. But, like everyone else, they appreciate being thanked for their hard work on our behalf.

Contact Tom Carper |
Contact Chris Coons
You may copy/paste directly from this blog post if necessary (and/or include the link). Or, Use T4A's on-line action alert to send a pre-written letter
HERE.
Watch for further alerts as the next several days unfold.