September 14, 2011
Dear Mr. Warnock:
Thank you for contacting me to express your support for funding within the next surface transportation reauthorization bill to promote biking and walking as a means of transportation. I appreciate having the benefit of your views on this issue.
Designing our communities in a way that encourages walking and biking is an important way to make them more sustainable and resident friendly. Walking and biking not only reduces congestion on roadways, but also helps to create a better quality of life and a healthier lifestyle. I hope that Congress can work on a bipartisan basis to craft a transportation reauthorization bill that takes a comprehensive approach to our transportation challenges, including support for transportation enhancements, Public Lands Highway Discretionary funds, recreational trails, the Safe Routes to School Program, and high speed and traditional passenger rail. The existing transportation bill expires on Sept 30th of this year and I will be sure to keep your views in mind as the Senate continues its work on the surface transportation reauthorization bill.
Additionally, you may be interested to know that I am a strong supporter of constructing a greenway for biking, walking, jogging, and horseback riding along the banks of the Chesapeake and Delaware (C&D) Canal. I have been working closely with state leaders and the Delaware Congressional delegation to secure funding to begin this project. The greenway will encourage health and fitness, enhance an understanding of Delaware's history and natural environment, and create jobs and bring business to towns along the Canal.
Again, thank you for contacting me. I am honored to represent Delaware in the United States Senate and truly value hearing from Delawareans on issues of concern. My website, www.coons.senate.gov, can provide additional details about my work in the Senate, including legislation and state projects. I value your input and hope you will continue to keep me informed of the issues that matter to you.
Sincerely,
Christopher A. Coons
United States Senator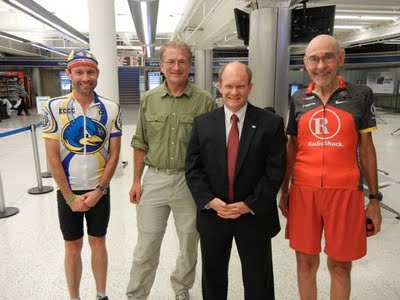 L-R: Frank Warnock, Greg Wood, Senator Coons, and Wally Hertler met at the Wilmington Amtrak Station before the start of the Blue Ridge Parkway Tour in June.