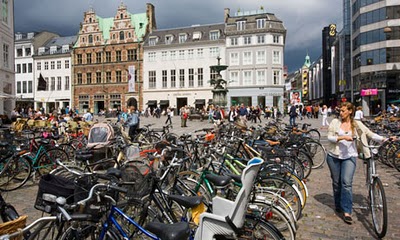 Can there be too many bikes in a city for safety? It's not a question usually asked: the received wisdom, supported by research and backed by campaigning groups, is that the more cyclists there are, the safer the roads become for everyone.
But in Copenhagen – one of the most bike-friendly cities in the world in which 36% of its inhabitants cycle to work or school, and which has committed to increasing that figure to 50% by 2015 – there are controversial voices coming from unexpected places.
According to the Danish Cyclists' Federation and Wonderful Copenhagen, the official tourism organisation for Denmark, the sheer success of the drive to get more locals and tourists on bikes is creating a dangerous, intimidating and unpleasant climate for cyclists in the city.
"In Copenhagen, we have quite extraordinary problems around cycling congestion," said Aneh Hajdu, of Wonderful Copenhagen. "I don't take my children on their bikes into Copenhagen at rush hour any more. It's too dangerous and scary. I just wouldn't risk it."
Bike Delaware is concerned about this issue but we think several more decades of poor land use and transportation investment decisions may help us avoid Copenhagen's unhappy predicament.
In other stories, a famous actress is concerned about having

too much money

.