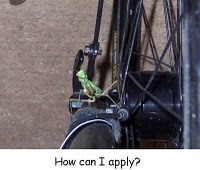 As seen on e-How.com
Do any of our readers participate in this program? Please share your comments.
It's great to save money and get exercise, and biking to work can be a beneficial way to achieve both. Not only will you save money on gas and car repairs, you can even profit by staying off the motorways. Former President Bush signed into law the Bicycle Commuter Benefits Act, which gives each commuter a tax break and credit for their environmentally sound decision.
Instructions:
1) Contact your employer and let him know your intention to begin biking to work. Ask if the employer is currently participating in the Bicycle Commuter Benefit Act. All employers are eligible, and there is no reason for them to deny the benefit or back out of the program.

2) Purchase a bicycle and save the receipts for all bicycle-related expenses. These can include repairs, tires, locks, helmet, clothes and bags. Present this information to your employer. Once your employer has this information, it must file with the federal government to participate in the program.

3) Begin commuting on bicycle to work [continue reading…]