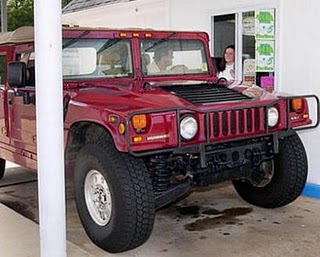 Probably the most comprehensive analysis ever compiled on auto dependency. Also see What Does Driving Really Cost
Some Statistics:
The typical American male devotes more than 1,600 hours a year to his car. He sits in it while it goes and while it stands idling. He parks it and searches for it. He earns the money to put down on it and to meet the monthly installments. He works to pay for petrol, tolls, insurance, taxes and tickets. He spends four of his sixteen waking hours on the road or gathering resources for it. And this figure does not take account of the time consumed by other activities dictated by transport: time spent in hospitals, traffic courts and garages: time spent watching automobile commercials or attending consumer education meetings to improve quality of the next buy. The model American puts in 1,600 hours to get 7,500 miles: less than five miles an hour.
(
6
)
Contents:
*  The Car and Global Warming
*  The Car and Pollution
*  Oil
*  Pollution During Manufacturing
*  Pollution During Disposal
*  The Environmental Cost of One Car
*  Road Building
*  Deaths and Accidents
*  Cars vs. Trains: Cost comparison
*  External costs of traffic in the EU
*  Pollution reduction on Carfree Day
*  China's Car Culture: The Numbers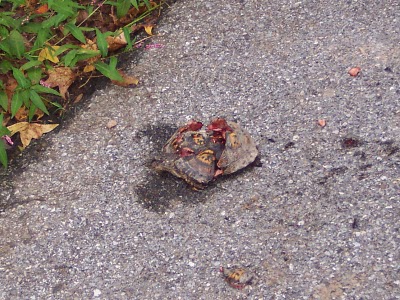 All of this, not to mention the huge toll on wildlife, probably measured in the millions of deaths every year. Some drivers even aim for and deliberately run over animals, including this beautiful Box Turtle found crushed at the very edge of the road.