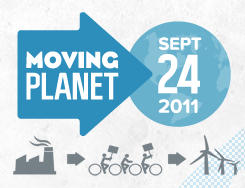 Join us on Sept 24 for a ride to several alternative energy projects, begun or planned, in New Castle County. We'll gather at Limestone Presbyterian Church in Hockessin at 7:30 to leave at 8, biking first to the PBF Refinery in Delaware City to encourage them to test a carbon capture process on some of their land. Other stops will include a wind turbine, a planned solar park, commercial composting, reforestation, a fuel cell, and vehicle-to-grid electric car manufacture. All in a roughly 38-mile loop.

Or, join us after the long ride, back at the church, for speakers, tune-ups from the Urban Bike Project, information about climate change in Delaware and what you can do about it, and more, from 1 to 3. Come on your bike, and dress for attention during your ride! 350.org shirts and banners encouraged. Limestone is just 8 miles from Wilmington, and 8 miles from Newark.

Check back for confirmation of the times the week before the event. See you on the 24th as we move beyond fossil fuels! Event webpage, RSVP HERE.