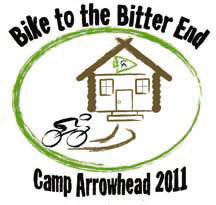 Ride revisited, By Joe Wilson — All in all, the first annual "Bike to the Bitter End" went well. Road surfaces were good and traffic was relatively light. The route marking was somewhat inadequate. Arrows on posts were used instead of painting the road surface and at least 2 of the markers had been tampered with. Next year they will paint the road (they had realized the need for paint before we talked) . The cue sheet had a couple of errors – one of which sent me on a short detour. Again, they figured this out before I got back and it was easily corrected.
Going forward, the organizers are considering adding a longer loop to attract more "serious" cyclists which may increase participation. Hard core roadies don't usually come out for a 35 mile ride (which for me is ideal). This year the event conflicted with "Bike to the Bay". Their other choice was to go up against the "Amish Country Tour" so they probably made a wise choice.  I don't know what the rider count was but I'm sure the organization can provide that.
A good first effort by the camp. Hopefully next year- with more advanced publicity- the participation will increase and it will become one of the annual rituals for our biking community. The delicious post ride lunch was prepared by the camp kitchen and was Lasagne, pasta with sauce, a vegetable medley and assorted cookies for desert. There was also a raffle for a goodie basket which, of course, I did not win.  Maybe next year.