On Sept 28, 2011, participants from a broad range of civic groups and governmental agencies packed WILMAPCO's conference room in Newark for the first ever joint meeting of the Wilmington Bicycle Advisory Committee and the Newark Bicycle Committee. For over 2 hours, over 30 participants discussed ideas for an "off-alignment" multi-use path (greenway/pathway) that would link Wilmington (our largest city) and Newark (our third largest – and only "bike friendly" city).
Michael Leventry of the Wilmington Bicycle Advisory Committee and Jeff Riegner of the Newark Bicycle Committee chaired the meeting.  Senator Dave Sokola, plus representatives from
Bike Delaware
City of Wilmington
Civic League For New Castle County
Council on Greenways and Trails
Delaware Bicycle Council
Delaware Greenways
Delaware State Parks
Delaware Trail Spinners
DelDOT
Marshallton Civic Association
Milltown-Limestone Civic Alliance
Nemours Health and Prevention Services
Newark Parks and Recreation
New Castle County
Office of Congressman Carney
Office of Senator Coons
Pike Creek Valley Civic League
Sierra Club and
WILMAPCO
all spoke and contributed ideas.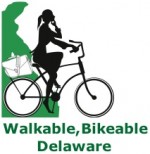 The opportunity to make a major investment to connect Wilmington and Newark for walking and bicycling in a way that would serve both transportation and recreational needs is before us because of the leadership of Governor Markell and the General Assembly, which passed Walkable, Bikeable Delaware in May.
Questions?  Email wbd@bikede.org