*** Calling all non-motorized users of the public right of way ***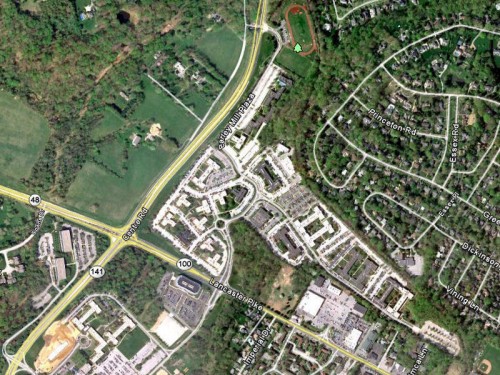 Conditions along the SR 141 corridor for commuting and access to other regional bike routes could change drastically if the Stoltz Corporation gets its way. The developer would like to introduce Commercial Neighborhood zoning at 100 and 141 and Commercial Regional Zoning at Barley Mill Plaza, pictured above. This rezoning would set a precedent for introducing retail on the 5-mile stretch of 141 that today has NO retail, making it attractive as a popular biking route.
Please mark your calendar for October 11 at 7pm, and consider attending a meeting at the City-County Building (Map/directions). New Castle County Council will convene to hear Stoltz officially introduce its request to rezone 37 acres (40% of the site) to Commercial Regional so it can build:
454,000 s.f. regional shopping center (1/2 size of Christiana Mall)
8 high traffic turnover PAD sites along 141 and 48
4-story hotel
1.2 million s.f. of offices
Multiple multi-story parking garages
Total square footage larger than Christiana Mall!
Non-motorized safety and quality of life will take a huge hit should the council vote in favor of Stoltz's proposal.
Whether you can attend or not, please contact your councilperson via email or phone call, and ask that they vote against this rezoning.