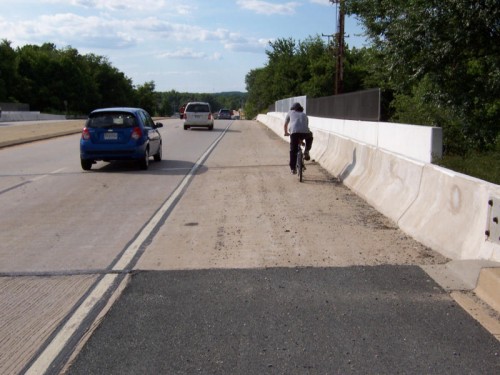 One complaint Delaware advocates field on a regular basis concerns shoulder sweeping. Everyone at one time or another is forced to ride through pools of gravel, sand, broken glass, and other debris, rather than take the lane with high speed traffic. Occasionally, it results in a puncture, or worse yet, a blowout which can have deadly consequences. In previous reports, correspondents have questioned the source of these debris, and why certain stretches of road (mainly intersections and bridges) can be much more chronic. Most importantly, they questioned the frequency of which DelDOT performs sweeping operations. Basically, we are told that roads under DeDOT jurisdiction (approx 89% in the state) receive a sweeping 3 times per year.
The state of Maryland, by comparison, is viewed among bicyclists as having much cleaner shoulders and bike lanes (where present). To that end, Bike Delaware contacted their State Highway Administration's Office of Maintenance, and the following was learned:
Thank you for your email regarding Maryland State Highway Administration's (SHA) highway sweeping policies for shoulders and bicycle lanes. The SHA performs roadway sweeping on sections of roadway along curbs to minimize the accumulation of debris. We realize the potential for debris to create hazardous riding conditions for bicyclists, as well as become airborne causing injury and vehicle damage.
The SHA strives to achieve a level of service (LOS) rating of having 80% of our roadways free of loose material and debris. At approximately 70%, our most recent assessment ratings show we fall slightly below the desired LOS. This is primarily due to the budget reductions that have occurred for the past three years.
In Fiscal Year 2011 (July 2010 through June 2011), SHA spent more than $1.5 million sweeping the roadways across the state. On average, sweeping is performed along curbs approximately three to four times annually. However, in select small sections where debris accumulation is a problem, sweeping can be performed up to six times per year.
Customers may call-in debris problems to SHA facilities or report them on SHA's website. In Fiscal Year 2011, SHA received approximately 400 new service request tickets in this manner. In addition, SHA is very proactive in identifying sections of roadway/shoulders with recurring debris issues. Employees take careful notes of problem areas along their assigned routes in their daily travels. Hazardous debris issues are addressed immediately, and the remaining are used to prepare the Maintenance Shop's work schedule for the month.
I hope I have fully answered your questions. If I can be of further assistance, please do not hesitate to contact us at 410-582-5569.
From what we are told, and from the evidence out on the road, it appears DelDOT does indeed stick to a 'one size fits all' schedule, as opposed to Maryland's more targeted sweeping program designed to prioritize problem areas. It would seem MD's approach is one developed through the active participation of citizens and SHA employees alike.
What can we do to convince DelDOT Maintenance that we need a system like the above which targets these locations, mainly at the expense of time spent sweeping the majority of cleaner (or zero problem) areas?
Above: A collection of photos taken at random around New Castle County. The last shows Sunset Lake Rd (Rt.72) in Glasgow, just north of Rt.40, just swept where debris rarely – if ever – accumulate.