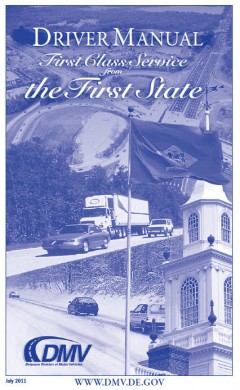 By Amy Wilburn, Chair, Delaware Bicycle Council —

The updated Delaware Driver Manual (pdf) is now available both on-line and in print.  Check out the sections on bicycling.
The Delaware manual offers tips for both drivers and cyclists to promote understanding and help all of us to safely share the roads.  And because it is used in the schools, it is promoting a more enlightened generation of motorists and cyclists.
Poster's note: Most info related to bicycles can be found starting on page 81, "Other Highway Users". The manual was updated as a result of Delaware's new Vulnerable Road Users law, which offers enhanced legal protections for bicyclists, as well as other non-motorized users of the public right of way. A tip of the helmet to Amy and the Delaware Bicycle Council for pushing this through, in what amounted to a wonderfully cooperative effort with DMV.