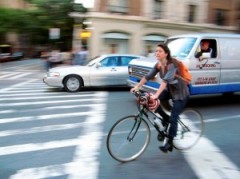 By  Streetsblog's Angie Schmitt —
If you are a cyclist, a cycling advocate or even if you sometimes order sandwiches for bike delivery, you are bound to hear it from time to time: Cyclists don't obey laws!
Suddenly you are on the defensive. It doesn't matter if you are the patron saint of stoplight obedience. One time someone saw a cyclist run a red light, and well, now you're going to hear about it.
The thing is, you rarely hear drivers calling on fellow motorists to clean up their act, and that's a shame, since motorists are responsible for 35,000 deaths annually, with fully one-third of motor vehicle fatalities being alcohol related. Car crashes kill more Americans a year than do handguns, and thousands of car crash victims are not drivers. Above photo by Gothamist