There's a tendency to talk about people who ride bikes as though they're a wanton bunch of scofflaws. You're with a group of non-cycling friends, or at work, or somewhere else in public wearing bicycle attire, and suddenly find yourself on the defensive. It doesn't matter if you are a John Forrester fan and idealize vehicular cycling to the letter of the law. Someone saw a cyclist run a red light, and well now, you're one of them.
The videos below are refreshing, in showing that our inquisitors are not just equally guilty, but in fact, much more so given the death and destruction their vehicles incur, to the tune of 40+ thousand who die in crashes each year in the US (never mind the environmental and health implications, at least doubling that figure).
Could it be that bicyclists (and pedestrians, i.e. jaywalking) are often times responding to a transportation environment that's an epic multi-modal failure? Think about it; if you do find a driver sold on the concept of bike lanes, the likely reason is the extra space it offers, the convenience, and keeping the speed up; if you're riding a bike, it's a matter of being seen and staying alive – especially at intersections. It's hardly a system that the vast majority would feel safe mixing it up in, especially when from behind 'accidents' are becoming a regular news item – this one on Streetsblog – and appear to mirror the surge in distracted driving.
Stand at any intersection in Delaware and observe what drivers are really doing behind the wheel. How many are either blabbing on a cell phone or looking down as they text or dial? Some are even shaving, putting on makeup, reading a map, or stuffing their face with a triple cheeseburger.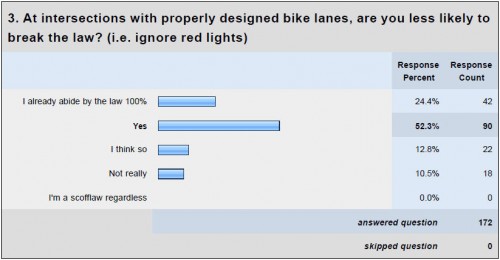 Do facilities help? No surprise here. In a recent survey of Delaware bicyclists, a clear majority indicated a stronger willingness to observe traffic laws when they are designed into the system.
One might think recent legislation in Delaware would have some positive influence, but without PSAs and enforcement, such behavior remains rampant – even to the point of being acceptable to the police. Throughout most of the US still, a simple "I didn't see him or her" is a virtual get off the hook free card. Failure to require police to check cell phone records certainly doesn't help.
Most bicyclists run red lights not out of wanton disrespect for the world's moral order. More likely, it's because they're riding in a sea of cars occupied by too many people who either don't notice (distracted), don't care, don't think bicycles belong, or harbor anti-bicyclist anger/resentment. They feel safer getting as far ahead as possible, and out of the way, especially when confronted with the choice to stop in front of a car or pickup truck. Worse yet is blocking a right turn-only lane that was formerly shoulder. Another reason bicyclists run red lights (and stop signs) is, simply put, they can without fear of penalty. Just the same as routinely driving 10+ mph over the speed limit, talking and texting, removing/modifying exhaust systems, failure to signal, and yes, as these videos poignantly show, running stop signs.
What bicyclists really need is an Idaho Stop law, currently under consideration in several states.
—
"115.86 Americans die each day in car accidents vs. 000.17 Americans who die each day from terrorist attacks. Why don't we have a war against aggressive and careless motorists?"  ~ Author Unknown