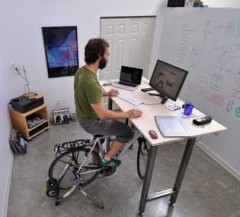 It might not offer the simple good looks of the Pit-In, the drive-in desk for bikes we saw back in March, but the Kickstand desk is both more practical (it has a bigger top) and more available (you can actually buy one).
The Kickstand desk caters to those obsessive multi-taskers who want to exercise and work at the same time. Less goofy than a treadmill desk, the Kickstand is tall enough to fit your bike underneath, and sturdy enough that it won't wobble as you pedal.
Why not just use a regular stand-up desk, you ask? Because the Kickstand has a sliding top to let you reach the handlebars or change gears.