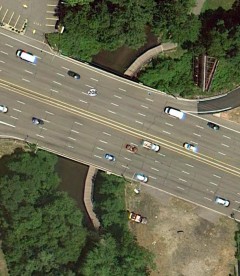 For the 30 years I lived in North Jersey and biked the pathways of Bergen County's Saddle River County Park system, they said it couldn't be done; the final connection that would complete a state of the art 9 mile linear park bike path along the Saddle River. The project was talked about for many years, but was thought insurmountable and lacked political will. Doing it correctly involved using a low expressway river bridge (designed for anything but this purpose) as an underpass below 10 lanes of suburban madness. Finally, after enough meetings of the minds, the connection was made – sometime after the author moved to Maryland (and then Delaware) in 1997. View from Google Earth left (path is crescent shaped, follows the river under Route 4/208).
Below (map):  Note the "Saddle River Pathway" where it crosses under Route 4/208. The project was shelved forever, it seemed, due to the enormous task involved. Despite the disconnect, the author still used parts of the facility on his daily commute between Radburn and Rochelle Park in the late 1980s.
Above:  An excellent video by Trailreviews.com takes you on a virtual tour of the park and path. A close look at the underpass is seen at :40 and 1:20 minutes. Engineers built a bike/ped bridge facility directly on top of the river that is designed to withstand heavy flooding.
Above:  A tour of the bridge structure – still in tact – immediately after Hurricane Irene. This appears to be an excellent design and might be considered for multi-use path bridge crossings in Delaware under similar circumstances. The White Clay Creek and/or Christina River is under consideration as a possible corridor for a Wilmington to Newark connection, and will likely face similar challenges along the way.