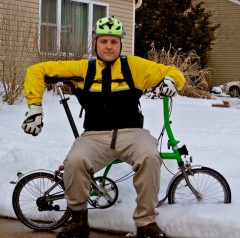 By Bob Ruddy —
It has been almost a year and one month since I started this experiment. My hypothesis on September 30th 2010 was that my family could go down to one car with little to no sacrifice. This turned out to be true. By mid November I had already decided it was going to work out and started preparing for the day I sold my car.
The big result is that in July of 2011 we officially went down to one car.
My health is significantly improved. I have ridden 2472 miles in this 13 months that I would have not ridden before. I have burned an additional 160,000 calories that I would have not have burned before. This has resulted in the losing of 41 pounds. I am now just 3 pounds over my weight from 2007 when I was in my best shape ever. I feel more awake when I get to work in the morning. I feel happier.
My wallet is also significantly heavier. First off, just by not driving I've saved about $2,004. Take on top of that that we actually did sell my car. That puts me way ahead. What I have done to keep track of this is simple. Any money I would have spent on gas, oil changes, insurance and other incidentals I put in a separate savings account. From this account I paid for all of my transportation costs. These include donations to bike advocacy groups, parts for my bikes, clothing to deal with the weather, any Zip Car or rental cars, public transportation passes, etc. I even paid for my Metrofiets cargo bike out of this fund. All this and I'm still way way ahead and the account continues to grow.  [Continue reading…]