The Delaware Trail Spinners 2011 Mountain Bike Jamboree was greeted with perfect weather and excellent attendance on October 23rd. It was held at Fair Hill Natural Resources and Recreation Area, just off Telegraph Road (Rt.273) in Fair Hill, Maryland. This park is known for having some of the Mid-Atlantic region's finest single track trails, and drew cyclists from all over the tri-state area including several from NJ. There are also plenty of double track or "carriage" type trails for the less technical at heart, including some suitable for all weather riding. The Trail Spinners are working hard to build or upgrade more of the latter, given the regions increased wet weather patterns.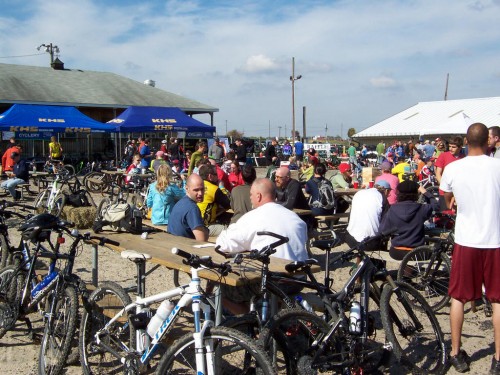 Participants enjoyed group rides for all ability levels on marked trails, great food from Fast Eddie's, beer from Dogfish Head, live music, bike games including the 'Earn Your Wings' Pixie Bike Race sponsored by GT Bikes, bike shop and vendor tents, and much more.
Bike Delaware was delighted to be there. Our table was actively attended, with plenty of interest in advocacy related issues – both on and off road. We thank Dusty Burchnall and Jim Ireland for inviting us and definitely look forward to tabling at this event again next year.