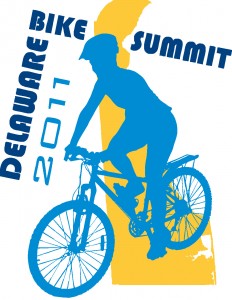 by John McCormick, Past President, White Clay Bicycle Club —
WCBC was a titanium sponsor for the 3rd Delaware Bike Summit held on Friday, October 14, in Lewes, DE. This annual event enables advocates, government officials, community leaders, bicycle experts and enthusiasts, to promote cycling by collectively identifying and addressing a broad array of related policy, infrastructure, safety and training opportunities.
The highlight of the Summit, for me personally, was an agreement signed by Delaware Transportation Secretary Shailen Bhat and Delaware Environmental Secretary Collin O'Mara. This agreement is designed to improve the state's network of trails in keeping with Governor Jack Markell's vision to build a world-class trails network within the state (http://governor.delaware.gov/information/proposedprogram.shtml). $7million in state funding, and potentially additional federal matching funds, will support the 19 proposed trail projects that Secretary O'Mara outlined at the Summit. It is obvious that DelDOT and DNREC officials are now committed to expedite connection of existing trails and to add new trails to the network over the next few years. Exciting news for pedal pushers and pavement pounders alike!
A handful of out-of-state speakers shared their perspectives on initiatives of interest to the greater cycling community. Rina Cutler, Philadelphia Deputy Mayor for Transportation, talked about improvement efforts in Philadelphia and specifically, how to "Get It Done". Tracy Hadden Loh, from the Rails to Trails Conservancy, discussed National Transportation Enhancements Funding and the upcoming federal reauthorization. Darren Flusche, League of American Bicyclists, elaborated on opportunities beyond Transportation Enhancements, specifically Section 402 of the State and Community Highway Safety Grant Program that provides funds for education, enforcement and research programs.
In addition, awards were presented to: former Delaware Governor/U.S. Representative Mike Castle for Lifetime Achievement in Bikability; Lewes Chamber of Commerce Executive Director Betsy Reamer for Outstanding Bicycle Commuter; Senator Robert Venables for Bicycle Friendly Elected Official; and Delaware Bicycle Council Chair Amy Wilburn for Bicycle Advocate of the Year.
WCBC was well represented at the Summit. Among those in attendance were: President Carol Ireland, Treasurer/League of American Bicyclists (LAB) Cycling Instructor Paul Hess, LAB Cycling Instructors Ceci & John McCormick, Bike Delaware President Drew Knox, Bike Delaware Public Relations Frank Warnock, and other WCBC members.
In summary, there's a lot of momentum to improve cycling infrastructure, safety and policy both locally and nationally. Thanks to the support of our members, WCBC has been able to contribute to these advocacy efforts over the years in a significant way. Although WCBC is primarily a recreational cycling club, our four major supported annual rides enable us to promote cycling both directly, with the time and talents of our members, and indirectly, with our donations to advocacy organization such as Bike Delaware, LAB, and the Urban Bike Project, as well as to be able to co-sponsor events like the annual DE Bike Summit.
Next year, please consider attending the 4th Annual DE Bike Summit!