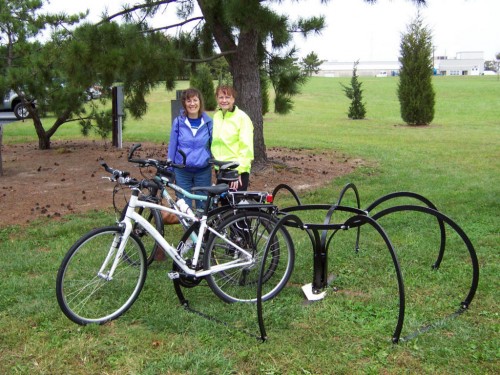 Above: Beverly Suarez-Beard and Bike Delaware Membership Chair Angela Connolly enjoy parking their bikes in a beautiful Vintage Metalwork bike rack, manufactured right here in Milford, Delaware (gallery below)
Vintage Metalwork applies a modular construction approach to bike parking equipment. A large number of different configurations are possible, meeting the varied constraints imposed by any given site. The needs for proper support and securing of bikes are integral to the designs as are measures for secure anchoring of the equipment to prevent dismantling and theft.
Very elegant and useful indeed, these custom hand built racks would enhance the beauty of any downtown while encouraging more folks to leave the car home. Less traffic, less noise, increased safety, better quality of life, right?
View their bicycle racks brochure in pdf HERE. For more info, email Stephen Curtis at: scurtis@vintagemetalwork.com