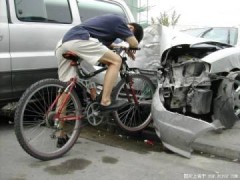 By Ryan Wood of Active.com —
John Duggan was riding along the left side of a lane of vehicles stopped in a traffic jam, when a car pulled out from the lane to make a U-turn right in front of him. The car smacked right into Duggan's bike, sending him flying.
At the time, Duggan didn't think he was injured, and he wasn't sure who was at fault. So both he and the driver mutually agreed to go their separate ways.
"I didn't call the police," Duggan recalls. "About a half-mile down the road, all the sudden (the pain) hit me. I ended up in the emergency room. I had some wrist issues and a shoulder issue, and it never feels good when a car hits you. But I let the guy go, and I never had any recourse against him.
"Turns out, it was his fault. You can't turn left or make a U-turn or change lanes without looking to see if anybody is coming behind you."
Duggan is a Seattle-based lawyer and an avid cyclist, and over the years his business has gradually been taken over by fellow cyclists needing legal help for situations similar to his own. Now, nearly 100 percent of Duggan's business is cycling-related. He considers himself a "cycling attorney" and takes phone calls from bike riders around the world.
He is just as interested in getting the word out about the legal rights of cyclists as he is making a living representing them. And when it comes to bike-versus-vehicle accidents, many cyclists are unaware of how to handle such a situation and get what they're legally entitled to.
So what do you do if you're in a cycling accident with a vehicle? If you're healthy enough to walk away from the crash site, that doesn't mean you should consider that the only victory you need. Instead, take these steps to make sure you're as protected as you can be.  [Continue reading …]