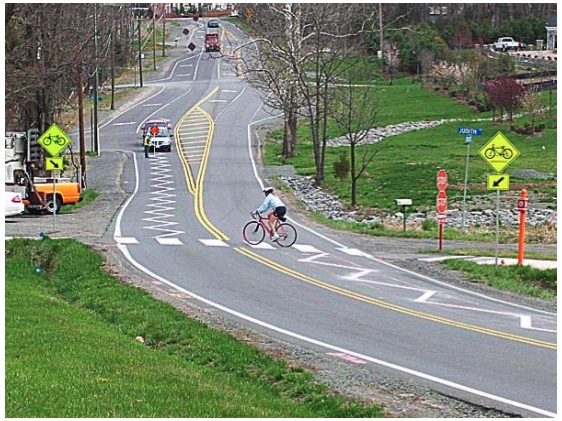 To paraphrase Hamlet, there are more pavement markings than are dreamt of in the MUTCD. Courtesy of the Virginia Department of Transportation, say hello to the Zig-Zag Pavement Marking:
[E]ye-catching pavement markings installed on two roads that intersect with the W&OD Trail in Loudoun County, are helping to slow motorists and bicyclists according to an experiment conducted by the Virginia Department of Transportation (VDOT) and its research arm, the Virginia Center for Transportation Innovation and Research (VCTIR).
A one year study by VCTIR found both
• heightened awareness of the crossing by approaching motorists
• reduced motorist speed even after being in place for a year
"Before the study, we thought the zig-zag pavement markings would have an immediate impact on motorist awareness, but over time would lessen," said Lance E. Dougald, Research Scientist at VCTIR. "It was interesting to see that the markings actually had a sustained positive impact on speed reduction even after the markings had been in place for one year."
The zig-zag has been successful in the UK and Australia.  The U.S. Federal Highway Administration approved its use on an experimental basis in Virginia.
The Delaware General Assembly, Governor Jack Markell and DelDOT and DNREC have all made commitments to build an interconnected statewide system of "off-alignment" bikeway paths, but that doesn't mean that Delaware is likely to be spending tens of millions of dollars on bridges for these paths every time they need to cross a road anytime soon.  So we need some innovative thinking to make sure these path crossings at roads are safe.  Engineers at the Virginia Department of Transportation are showing the way with the Zig-Zag: