But What About Bike Parking?
Much to the dismay of bicycle advocates, construction of additional motor vehicle parking is planned for 2012, aimed at drawing even more cars to an already loud and gridlocked Main Street. Plans call for a MorePark parking structure, at a cost: $3.4M, to be built on the lot north of Main Street behind Wilmington Trust/MT Bank. A full size parking garage in Lot 1 behind The Galleria is also in the works.
The City of Newark, in cooperation with DelDOT could provide a very elegant yet practical form of bike parking on Main Street if it chooses. The city has a very high bicycle modeshare – among the highest in the nation – which deserves safe and accessible on-street bike parking at regular intervals.
At this time, Newark and DelDOT say they are continuing to work with Main Street property owners – a number of whom oppose bike parking on aesthetic grounds – to identify locations for 16 single "tube" racks. It is likely these will end up in sidewalk recess areas or alleys. They also claim to be exploring options for on-street corrals, done in a way to provide greater visibility and protection to parked bicycles. This would require removal of 1 car parking space each city block, but the parking committee is opposed to removal of on-street parking. A single car parking space can park up to 8 or more bicycles in a corral (instead of what are commonly SOVs.)
With leaf cleanup season around the corner, followed by winter weather issues, it is not known if or when any plans for bike parking will move forward, and ultimately installed. The City is also eager to impose a ban on bike parking against meters, trees, and other downtown furniture. Such an ordinance would disenfranchise bicyclists, unless bike parking is readily available at regular intervals. Suggestions also included the retrofit of parking meters with loop racks, which was immediately struck down by Marvin Howard, Parking Administrator in Sept. 15 meeting on Main Street.
Newark's Bicycle Committee will continue its advocacy work, hoping to reach some kind of agreement with the city to provide usable bike racks at regular intervals on Main Street and the downtown in general. Failure to do so will call in to question Newark's "Bicycle Friendly Community" distinction, awarded by the League of American Bicyclists.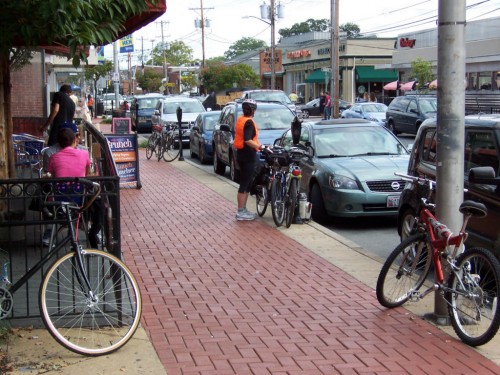 Above: Bicycles can be found all over the place on Main Street, yet the city continues to prioritize more cars and more gridlock above livable, green, non-motorized means of transportation.