By Andy Clark, President, League of American Bicyclists —
Timing is everything. Today, registration for the National Bike Summit officially opens – and Senator Rand Paul is out there making the case for attending the Summit more eloquently than we ever could. Tomorrow's likely Senate vote on eliminating the enhancements program (yes, they're trying again) really does speak volumes as to why we need you at the Summit in March.
Speaking of March, wouldn't you know it but the Summit is scheduled just 8 days before our current Federal transportation funding program expires and has to either be extended [for the umpteenth time] or re-written. We're going to need as big of a crowd as we can muster to go up Capitol Hill en masse and make the case for continued dedicated funding for bike programs.
So even though it seems like it's a ways away, we are already in full Summit planning mode – and evidently so is George Pearson of Las Cruces, N.M., the first official Summit registrant who signed up this morning! Go George, and we'll see you in March.
Early Registration
Save $150 for the next two weeks!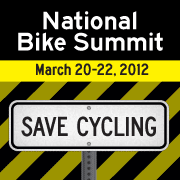 Register for the National Bike Summit by November 11, 2011 to save an additional $50 off the already discounted early bird registration rate for a total savings of $150. Why an extra $50? Because we need every single cyclist on Capitol Hill this March to ensure cycling is included in the transportation bill. If you aren't there, we could go back to the cycling dark ages of 50 years ago when there was no transportation funding for cyclists. So register today, save an additional $50, and help save cycling!