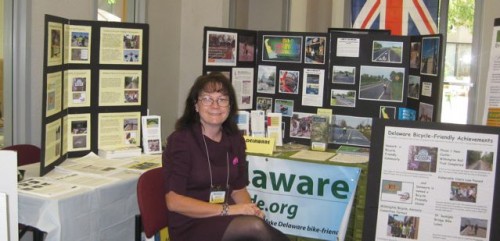 By Angela Cunneely, Bike Delaware Membership Director —

On Monday Oct  31, representing Bike Delaware, I  attended a Transportation Fair at Delaware Technical and Community College's Stanton Campus. This four hour event was held to increase awareness and encourage green alternative travel modes by the student population, such as mass transit and bicycling. In addition to our Bike Delaware table, RideShare Delaware and DART Transit were represented as well.
Held in the main lobby, I had a steady stream of traffic, including students and faculty that stopped by to chat about the cycling issues that concerned them. Our table looked lovely and was well stocked with informative materials, as well as information on our advocacy efforts at Bike Delaware.
I would like to thank Domonique Carter for inviting us to this event, and I look forward to working again with Del Tech, assisting them in their efforts to encourage less dependence automobiles. I had a wonderful time, met some nice people, and was very proud to represent Bike Delaware.