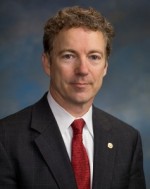 From the Rails to Trails Conservancy —
Bipartisan support of funding for trails, walking and bicycling continues to grow in response to repeated legislative attacks on the Transportation Enhancements (TE) program.
On Tues, Nov. 1, by a vote of 60 to 38, the U.S. Senate rejected an amendment by U.S. Senator Rand Paul (Ky.) that would have shifted dedicated funding for walking and biking infrastructure to bridge repair, thus eliminating a hugely popular program that has been shown to improve safety, create jobs and efficient transportation choices for millions of Americans for the past 20 years.
Rails-to-Trails Conservancy (RTC) and our partners argued the amendment posed a false choice between TE and bridge safety, and we helped organize a national sign-on letter to senators encouraging them to vote against Paul's Senate Amendment 821. (Read the original action alert and watch a video for more background on the issue.)
"In truth, most states already have funds that they could use for bridge repair, but that instead go for new roadways," says RTC's Director of Policy Outreach Kartik Sribarra. "Further, last year, states sent back $530 million in unspent bridge funds. It's shameful and disingenuous to claim to be promoting safety by pushing to cut funds for trails, walking and bicycling. 47,000 cyclists and pedestrians have died during the past decade, often because we lack the necessary infrastructure for them to be safe."
TE funds have substantially decreased these risks, using less than 2 percent of surface transportation funding.
"An honest prescription for accelerating bridge repair would need to address either the overall level of investment in transportation infrastructure, or the tendency to prioritize new road capacity over maintenance of existing assets, or both," Sribarra says.
Thank you to everyone who contacted your senators! It seems like we face a new legislative attack on TE each week, but with your voices and backing, we're able to defend this tremendous program, the largest source of funding for trails, walking and bicycling.
[Full article on RTC's website…]