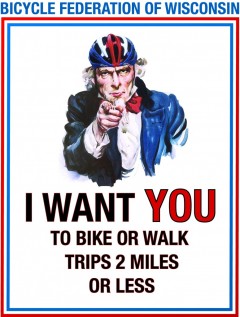 Courtesy of the Bicycle Federation of Wisonsin —
A new study shows that if people made even half of their short trips by bicycle instead of in a car, the midwest could save $3.8 billion in healthcare costs annually. In the United States, a whopping 41% of trips are 2 miles or less and 28% are less than one mile, but 90% of those trips are taken by car.
The citizens of our great country have a long and proud history of making personal sacrifices for the good of the nation in troubling times. Given we are already effectively rationing healthcare, perhaps it is once again time for our leaders to ask that people take more personal responsibility to reduce the cost of healthcare by making these very short trips on foot or by bike.