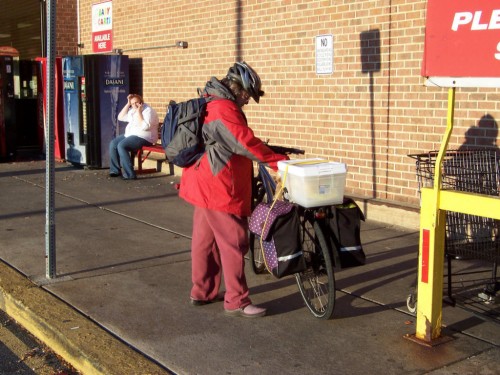 "I spend $150 for groceries every two weeks, and this is what I get for bike parking" says Caroline Honse, above. Car-free for over 5 years, she continues faithfully shopping at the Chestnut Hill Shop Rite despite the atrocious bike parking conditions. "Non-drivers are routinely disenfranchised, and this case is a good example. Here we are reducing our dependence on motor vehicles, doing our part for a clean environment and better quality of life. Providing a bike rack is one of the most cost effective ways of encouraging more folks to do the same".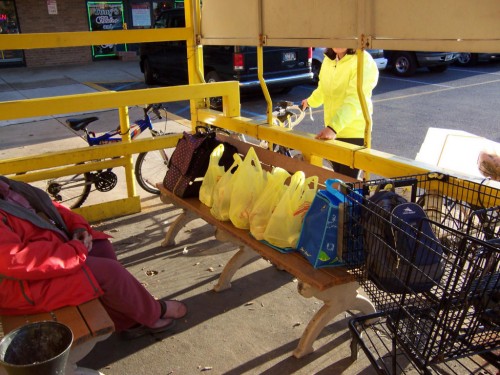 6 bags of groceries await their careful arrangement in Caroline's saddle bags.
The food store chain – like too many others in its class – fails to provide secure bike parking, and riders are left in search of anything they can find that will take a lock and hold a bike upright as they load groceries. It is not uncommon to find multiple bikes – as many as a dozen on occasion – scattered about the front of the store. A cart corral (below) appears to be a common target, and is Caroline's first choice if space is available. But sometimes there isn't, and a tree or sign post becomes a last resort.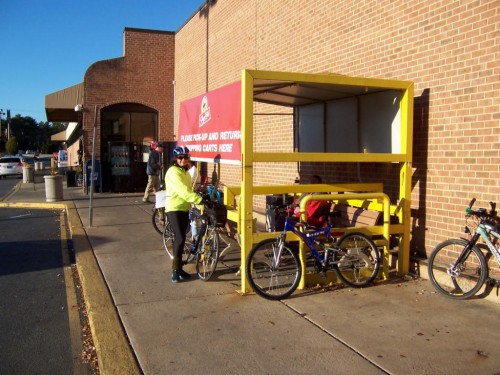 Ironically, the company's website tells a very different story. Here, Shop Rite is a friend of the environment, and takes Earth Day initiatives very seriously:
For decades, the ShopRite family has been concerned about the environment and conserving natural resources. Our stores have implemented policies, procedures and initiatives to reduce our environmental impact — from the installation of solar panels on the roofs of the ShopRites of Wharton and Garwood, N.J., to
extensive recycling and composting efforts to the "GREEN" technologies such as super-efficient refrigeration systems and energy-saving lighting systems in many of our stores.
It's too bad Shop Rite ignores the "GREEN" benefits of bicycling as a viable and healthy alternative to driving, especially when roughly 40% of all trips are under 3 miles, and the worst emissions occur during short trips.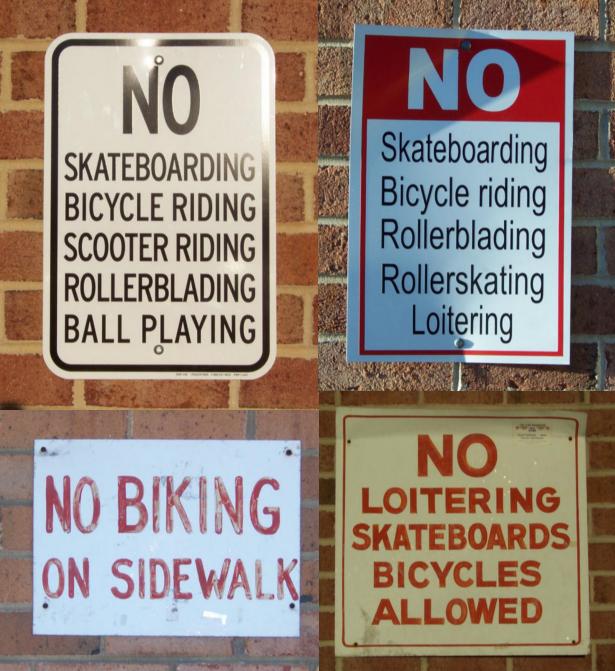 Various signs on the walls surrounding Shop Rite and other retailers in Chestnut Hill Plaza aren't exactly welcoming, either. While they are likely aimed at children, a simple "No Loitering" sign would be more appropriate.